Rosetta Stone German Review
What to Expect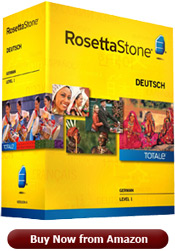 Will using the Rosetta Stone German allow you to freely say: "Ich kann fließend Deutsch sprechen, nachdem ich diesem Programm nur für ein paar Wochen benutzt habe!" (I'm able to speak fluent German after I've used this program for only a couple of weeks!).
Probably not. If that's your goal, then this program won't cut the deal for you (I doubt that there is any method out there that could teach you fluent German within a few weeks). However, Rosetta Stone will provide you with a step-by-step guide to help you become proficient in the language. You'll be able to hold up conversations, have a good understanding of the sentence structure, and pronounce the German letters as a native.
There is definitely some hard work that you've got to do on your side though if you're really willing to learn the German language. You'll have to train your brain to recognize sounds, train your mouth and tongue to make them, and learn an entirely new set of vocabulary. These could all be achieved with the help of Rosetta Stone German.
Learn at Home
Rosetta Stone allows you to advance beyond beginner level in German in the comfort of your own home, using your own computer and the provided headset and microphone. When compared with the cost of taking a traditional course along with drive time and cost of books, its value becomes clearly apparent.
Unlike a traditional language class, this product allows you to customize it to your own goals (read, write, listen, speak) through a very simple startup screen (which can be setup for different users) and then it automatically builds the lessons for you.
Program Structure
The full course of the German language is separated into five levels. Here's a break-down of the first three levels:
Level 1: Language Basics, Greetings & Introductions, Work & School, and Shopping. In addition to many activities. This level should take around 25 hours to complete. Each unit ends with a 10-minute simulated conversation.

Level 2: Travel, Past & Future, Friends & Social Life, and Dining & Vacation. This level will take longer than level 1 to complete; as it deals with many grammar concepts as well. Also covered is giving directions, writing letters, apologies, and discussing emotions. Each unit ends with a 10-minute simulated conversation.

Level 3: Home & Health, Life & World, Everyday Things, and Places & Events. The vocabulary gets more complex, with lessons on botanical terms, expressing detailed opinions, politics, religion, and business. Each unit ends with a 10-minute simulated conversation.
Suitable for Beginners & More Advanced Users
Each screen is accompanied by a phrase, spoken out loud by a native speaker in the program, and a few slightly different picture scenes that require you to pick the one that the sentence is referring to. The lessons begin at an extremely basic level, however, your proficiency will improve as you move through these basic cues to the more advanced and complex speaking and contexts. By the end of the program you will be dealing with fairly complex situations, sentences and associations.
Rosetta Stone German also allows you to repeat the phrases and, using the supplied microphone, match and score your own pronunciation against the supplied samples. You can also test your ability to properly write out German by spelling out and typing the phrases. There are also several variations on all the visual, verbal and textual tests.
Makes the Learning Experience Fun
You'll find the software to be fun. At times, it can feel like a video game. The program does a good job of continuously challenging both your vocabulary and your tongue without being so difficult as to be dishearteningly discouraging.
Rosetta Stone immediately immerses the learner in the world of the German language, trying to make you forget your mother tongue as much as possible as you learn. This is the best way to make oneself truly fluent.
Pros:
Offers more abilities to further practice
Very easy to start using, you simply install and start using it. No learning curve required to use the program.
Profile Builder in order to establish an identity on the web, and the option to set reminders of progress and practice.
Microphone is clearer and more designed for comfort, picks up less background noise.
Supports Mac OS.
Clear audio pronunciation of words and phrases with native German speakers.
15 Month TOTALe Online Subscription included (for the games, stories, and live talk sessions).
And best of all: 6 month return policy, so if you're not satisfied, you could simply request your money back!
Cons:
Might not be a good choice if you're after the grammar only, as the program focuses more on sentence structure rather than the grammar concepts.
More expensive than the other German teaching software, however, when compared with a full German course, you'll find the price reasonable.
Not fully compatible with 64-bit Windows systems.
Where to Buy
For some reason, Rosetta Stone German is considerably much more expensive when bought from its own site than from Amazon, with price differences going up to $250!!
Also since used versions can't be sold, not even eBay has a cheaper price than Amazon!

Purchase Now
If you want to save some money, then you shouldn't buy from Rosetta Stone's site. Instead, go to Amazon to read reviews for yourself and purchase it